Product Description
Female Threads With Lock Guillemin With Helical Shank Jaw Coupling
The standard of Guillemin Coupling is EN14420-8 or NF E29572. Materials are mainly stainless steel, aluminum, polypropylene and brass. Guillemin hose couplings is connected with thread and locking ring (latch). It can be used with DIN2817 safety clamp. Working pressure is 10 bar. Guillemin coupling is widely used in industries of oil, chemical, fire protection, paper manufacture, construction and metallurgy.
 
Guillemin couplings, also referred to as French couplings are symmetrical couplings where to identical halves are assembled by joining the lugs and turning the locking ring to ensure a good connection.
Pros:
Simple and easy connection
Has a locking ring and soft seal
Large free flow area
Aluminum couplings are lighter in weight than stainless steel
Suitable for water, fluids, hydrocarbons, chemicals, and dry loose materials
 
| | |
| --- | --- |
|  Product Name: | Guillemin Camlock Coupling |
| Sizes: | 1" – 4" (DN25-DN100) |
| MOQ: | 50 pcs |
| Certificates: | CE, ISO9001:2015 |
|  Standard: | EN14420-8 /NF E29572  |
| Material: |  Stainless steel 316/ 304, Aluminum, PP |
| Working pressure: | 10 bar |
| Feature: | Light, flexible and interchangeable. To connect and disconnect without a tool. Economical |
| Application: | it is widely used in oil, chemical industry, fire fighting, paper manufacture, constructoin and metallurgy |
| HS code: | 7609000000 |
Our Advantage
We are experienced as we have been in this industry as a manufacturer for more than 10 years. Both of quality and service are highly guaranteed. Absolutely prompt delivery. We can produce according to specific drawings from customers. Welcome OEM/ODM project. Strict control on quality. High efficient and well trained sale service team.  ISO9001, CE and SGS certified.
FAQ
1.Q: Are you a producer or trading company?
   A: We are an experienced manufacturer. We own production line and kinds of machines.  
2.Q: Can you make our specific logo on the part?
    A: Yes please provide me your logo and we will make your logo on the part.
3.Q: Can you manufacture products according to my drawings?
   A: Yes we can manufacturer according to client's drawings if drawings or samples are available. We are experienced enough       to make new tools.
4. Q: Can I get some samples?
    A: We are honored to offer you our samples. Normally it is for free like 3-5 pcs. It is charged if the samples are more than 5        pcs. Clients bear the freight cost.
5. Q: How many days do you need to finish an order?
    A: Normally it takes about 30 days to finish the order. It takes more time around CHINAMFG season, or if the order involves many        kinds of different products.  
6. Q: What kind of rubber washer do you apply to camlock couplings?
     A: Normally we use NBR gasket.
contact-info.html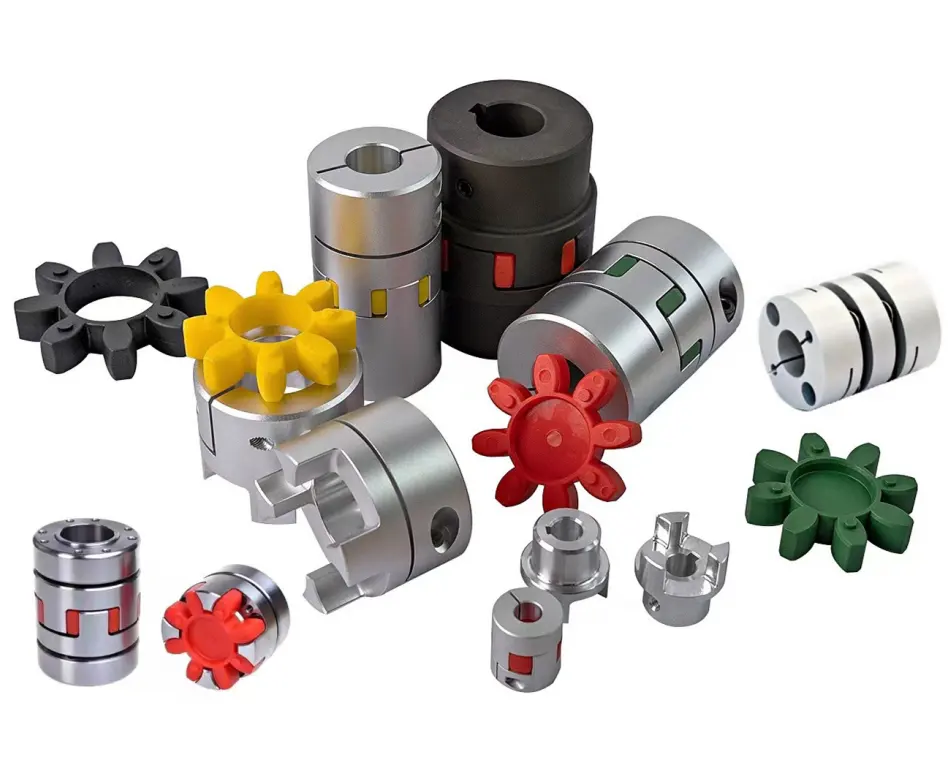 Accommodating Variable Operating Conditions and Loads with Jaw Couplings
Jaw couplings are designed to accommodate variable operating conditions and loads, making them suitable for a wide range of applications. Here's how jaw couplings achieve this:
Flexibility: The elastomeric spider (flexible element) in a jaw coupling provides flexibility, allowing for angular, parallel, and axial misalignment between the connected shafts. This flexibility helps to compensate for minor misalignments that may occur during operation or due to changes in operating conditions.
Shock Absorption: The elastomeric spider also acts as a shock absorber, dampening vibrations and reducing the impact of sudden loads or shocks. This feature is particularly beneficial in applications where the connected equipment may experience variable or unpredictable loads.
Torsional Stiffness Options: Jaw couplings are available in different torsional stiffness options, depending on the specific application requirements. Couplings with higher torsional stiffness are suitable for precision applications with minimal misalignment, while those with lower stiffness are ideal for applications with higher misalignment and shock absorption needs.
Material Selection: Jaw couplings can be manufactured from various materials, such as aluminum, steel, or stainless steel, to suit different environmental conditions and loads. Corrosion-resistant materials are available for harsh environments, ensuring the coupling's performance remains unaffected by changing operating conditions.
Size and Torque Ratings: Jaw couplings are available in a wide range of sizes and torque ratings, allowing users to select the appropriate coupling based on the expected operating conditions and torque requirements of the application. It's essential to choose a coupling size that comfortably handles the maximum expected load.
Interchangeability: Many jaw couplings are designed to be interchangeable with other manufacturers' couplings of the same size and type. This feature provides flexibility in sourcing replacements and makes it easier to adapt the coupling to changing requirements or equipment configurations.
Overall, jaw couplings' ability to handle variable operating conditions, misalignments, and loads makes them versatile and reliable components in a wide range of mechanical systems and applications.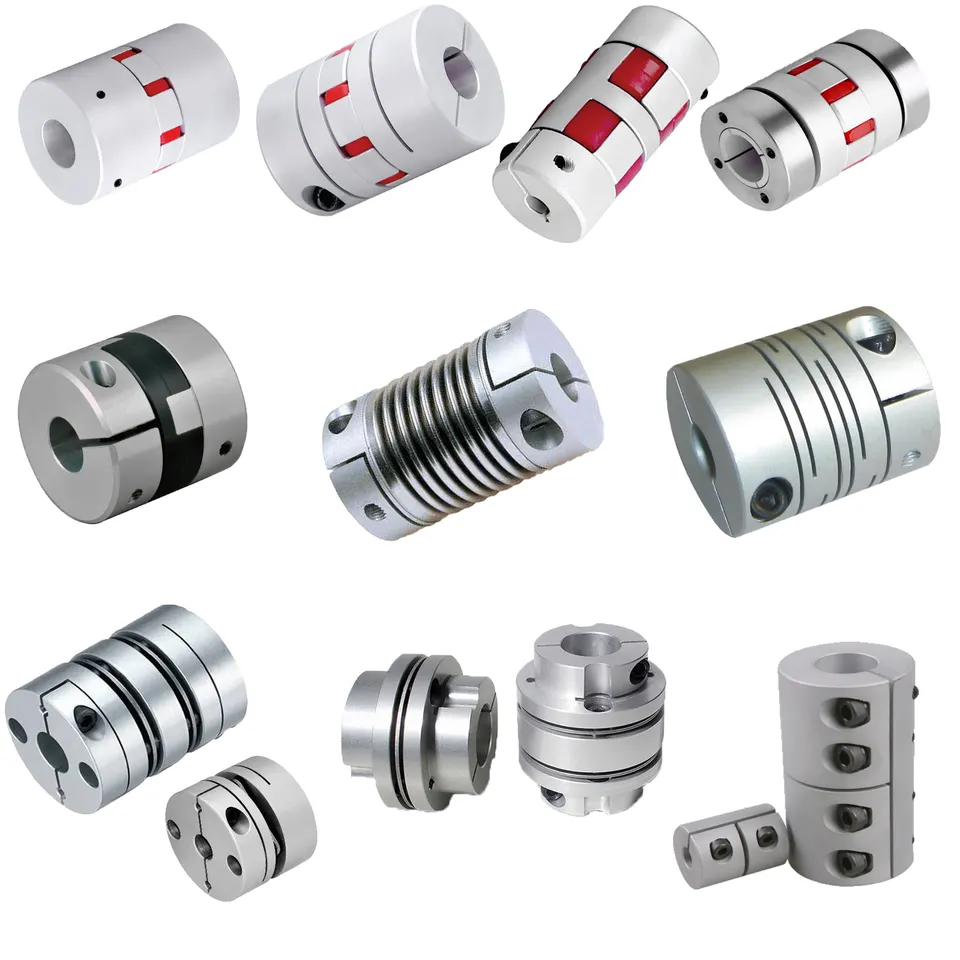 What are the temperature and environmental limitations of jaw couplings?
Jaw couplings, like many mechanical components, have temperature and environmental limitations that need to be considered for proper operation and longevity. These limitations are determined by the materials used in the construction of the jaw coupling and the specific operating conditions it will encounter. Here are some of the common temperature and environmental limitations of jaw couplings:
Temperature Limitations: The operating temperature range of a jaw coupling depends on the materials used for its components, particularly the elastomer spider. Standard elastomers, such as polyurethane or nitrile rubber, are commonly used in jaw couplings and have typical temperature limits of approximately -40°C to 80°C (-40°F to 176°F). For more extreme temperature requirements, specialized elastomers with higher or lower temperature resistance may be available. It is essential to consider the ambient temperature and the temperature generated during equipment operation to ensure the jaw coupling remains within its temperature limits.
Environmental Limitations: Jaw couplings can be affected by various environmental factors, and their performance might be influenced by the presence of certain substances. Some environmental limitations to consider include:

Chemical Exposure: Exposure to harsh chemicals, oils, solvents, or corrosive substances can degrade the elastomer spider and other components of the jaw coupling. Specialized coatings or alternative materials may be required for applications with aggressive chemical environments.
Dust and Debris: Excessive dust, dirt, or debris in the operating environment can accumulate on the coupling's surfaces and affect its performance. Regular cleaning and maintenance may be necessary to prevent buildup and ensure optimal operation.
Moisture and Water: Some jaw couplings may not be suitable for applications where they are continually exposed to moisture or submerged in water. In such cases, water-resistant or corrosion-resistant materials may be necessary.
Shock and Vibration: High levels of shock and vibration in the operating environment can accelerate wear and reduce the coupling's lifespan. Selecting a robust coupling design and appropriate materials can help mitigate the effects of these factors.
Electrically Conductive Environments: In some applications, it is essential to consider the electrical conductivity of the coupling's materials, especially when dealing with sensitive electronic equipment.
It is crucial to consult the manufacturer's specifications and guidelines to ensure that the selected jaw coupling is suitable for the specific temperature and environmental conditions of the intended application. Proper maintenance, periodic inspections, and adhering to recommended operating parameters can extend the life and performance of the jaw coupling in a given environment.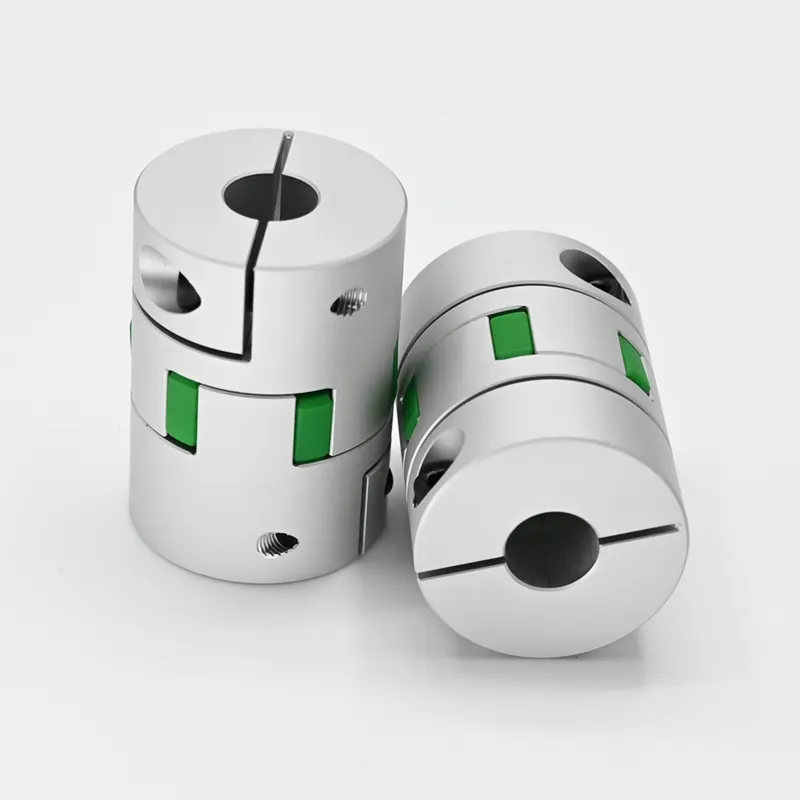 What is a Jaw Coupling and How Does It Work?
A jaw coupling is a type of mechanical coupling used to connect two shafts in machinery. It is designed to transmit torque while compensating for shaft misalignments and dampening vibrations. The coupling consists of two hubs with three curved jaws each and an elastomeric spider placed between them.
The working principle of a jaw coupling is based on the flexibility of the elastomeric spider. When the two hubs are brought together, the spider gets compressed between them. The curved shape of the jaws allows the spider to flex, accommodating angular and axial misalignments between the shafts.
During operation, when torque is applied to one shaft, it is transmitted through the spider to the other shaft, enabling power transmission. The elastomeric material of the spider also acts as a damping element, reducing vibrations and shock loads in the system.
Jaw couplings are commonly used in various applications, such as pumps, compressors, conveyors, and other power transmission systems. Their simple design, ease of installation, and ability to handle misalignments make them popular choices for connecting rotating shafts in machinery.



editor by CX 2023-09-30