Product Description
| | | | | | | | | |
| --- | --- | --- | --- | --- | --- | --- | --- | --- |
| Item No. | φD | L | L1 | L2 | L3 | S | M | Tighten the strength(N.m) |
| SG7-10-14- | 15 | 20 | 6 | 6 | 3 | 1 | M3 | 1 |
| SG7-10-25- | 26 | 26 | 8 | 8 | 4 | 1 | M4 | 1.5 |
| SG7-10-30- | 32 | 32 | 10 | 9 | 5 | 1.5 | M4 | 1.7 |
| SG7-10-40- | 40 | 50 | 17 | 12 | 8.5 | 2 | M5 | 4 |
| SG7-10-55- | 56 | 58 | 20 | 14 | 10 | 2 | M5 | 4 |
| SG7-10-65- | 66 | 62 | 21 | 15 | 10.5 | 2.5 | M8 | 15 |
| SG7-10-80- | 82 | 86 | 31 | 18 | 15.5 | 3 | M8 | 15 |
| SG7-10-95- | 98 | 94 | 34 | 20 | 17 | 3 | M8 | 15 |
| SG7-10-108- | 108 | 123 | 46 | 24 | 23 | 3.5 | M8 | 15 |
1111111111111111
| | | | | | | | | | |
| --- | --- | --- | --- | --- | --- | --- | --- | --- | --- |
| Item No. | Rated torque | Maximum Torque | Max Speed | Inertia Moment | N.m rad | RRO | Tilting Tolerance | End-play | Weight:(g) |
| SG7-10-14- | 1.1N.m | 2.2N.m | 19000prm | 3.9×10-4kg.m² | 45N.m/rad | 0.02mm | 1.0c | +0.6mm | 20 |
| SG7-10-25- | 6.0N.m | 12N.m | 16000prm | 6.8×10kg.m² | 56N.m/rad | 0.02mm | 1.0c | +0.6mm | 25 |
| SG7-10-30- | 6.5N.m | 13N.m | 15000prm | 8.3×10kg.m² | 70N.m/rad | 0.02mm | 1.0c | +0.6mm | 46 |
| SG7-10-40- | 32N.m | 64N.m | 13000prm | 9.3×10kg.m² | 490N.m/rad | 0.02mm | 1.0c | +0.8mm | 135 |
| SG7-10-55- | 46N.m | 92N.m | 10500prm | 3.8×10-3kg.m² | 1470N.m/rad | 0.02mm | 1.0c | +0.8mm | 300 |
| SG7-10-65- | 109N.m | 218N.m | 8300prm | 8×10kg.m² | 2700N.m/rad | 0.02mm | 1.0c | +0.8mm | 570 |
| SG7-10-80- | 135N.m | 270N.m | 7000prm | 1.5×10-2kg.m² | 3100N.m/rad | 0.02mm | 1.0c | +1.0mm | 910 |
| SG7-10-95- | 260N.m | 520N.m | 6000prm | 1.9×10kg.m² | 4400N.m/rad | 0.02mm | 1.0c | +1.0mm | 1530 |
| SG7-10-108- | 430N.m | 860N.m | 5000prm | 3×10kg.m² | 5700N.m/rad | 0.02mm | 1.0c | +1.0mm | 2200 |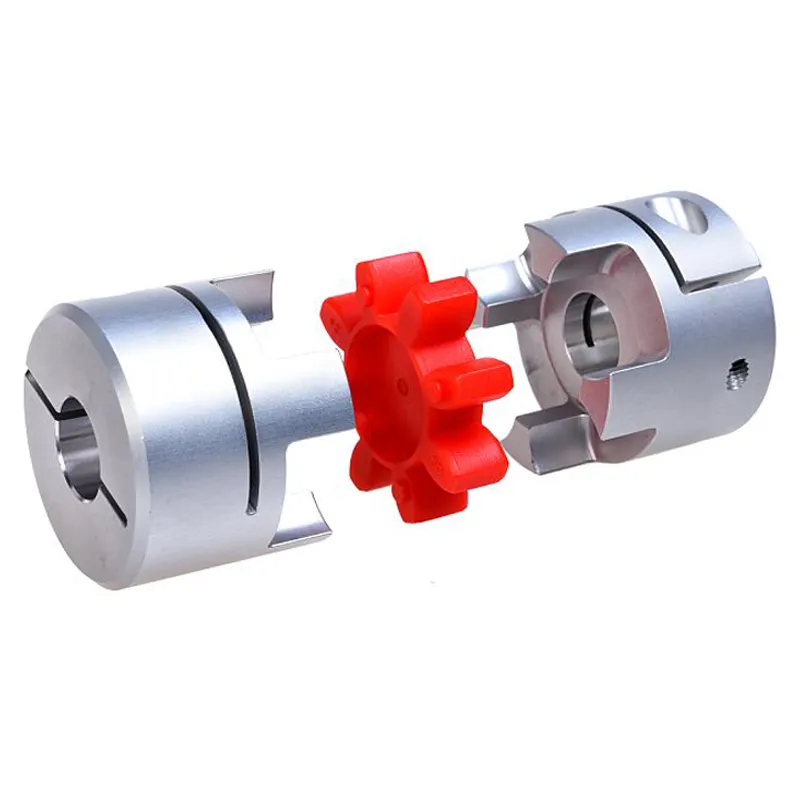 Usage of Jaw Couplings for Motor-to-Shaft and Shaft-to-Shaft Connections
Jaw couplings are versatile components that can be used for both motor-to-shaft and shaft-to-shaft connections in mechanical power transmission systems. Their design and features make them suitable for various applications:
Motor-to-Shaft Connection: When connecting a motor to a driven shaft, jaw couplings are commonly used to transmit torque from the motor to the driven equipment. The motor's shaft is inserted into one side of the jaw coupling, and the driven shaft is inserted into the other side. The elastomeric spider element in the coupling provides a flexible connection that accommodates misalignment and dampens vibrations, ensuring smooth power transmission from the motor to the driven shaft.
Shaft-to-Shaft Connection: In cases where two shafts need to be connected directly, without a motor or other driving element, jaw couplings can be used for shaft-to-shaft connections. Both shafts are inserted into the respective sides of the jaw coupling, and the elastomeric spider element bridges the gap between them. This enables torque transfer between the two shafts while compensating for any misalignment that may exist.
Whether used for motor-to-shaft or shaft-to-shaft connections, jaw couplings offer the same advantages, including misalignment compensation, vibration dampening, and backlash-free operation (depending on the design). These features make them suitable for various applications across different industries, where reliable and efficient power transmission is essential.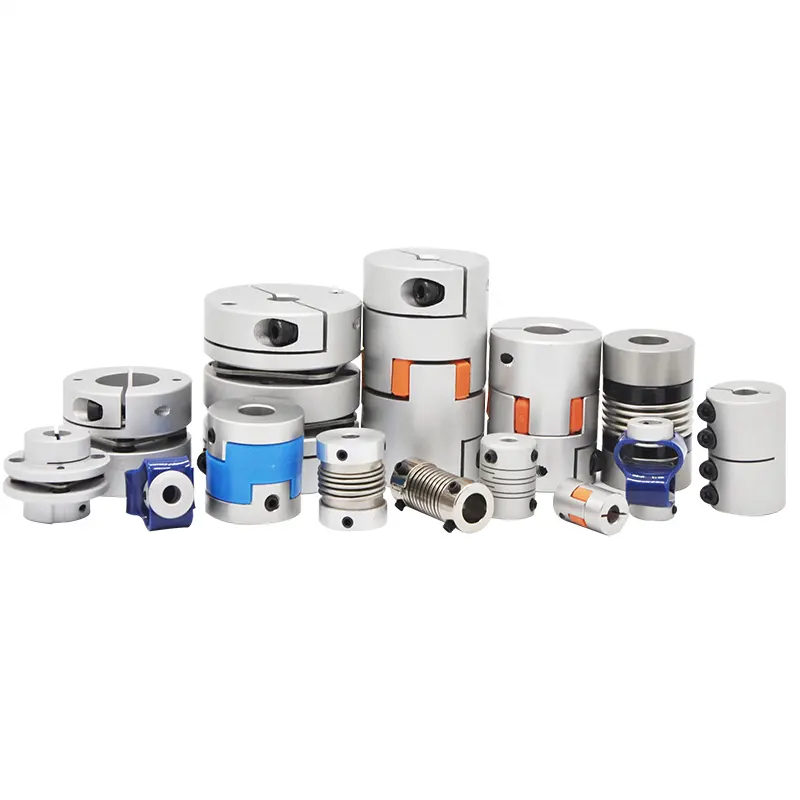 What are the common installation mistakes to avoid when using jaw couplings?
Proper installation of jaw couplings is crucial to ensure their reliable and efficient operation. Avoiding common installation mistakes can prevent premature wear, misalignment, and potential equipment damage. Here are some of the most common installation mistakes to avoid when using jaw couplings:
Incorrect Coupling Size: Using the wrong size of jaw coupling for the application can lead to various issues. Undersized couplings may not handle the required torque, leading to early failure, while oversized couplings may result in increased rotational inertia and decreased system performance. Always ensure that the selected coupling is appropriate for the torque and power requirements of the equipment.
Misalignment: Improper alignment of the shafts during coupling installation can cause excessive forces and premature wear on the coupling components. Angular, parallel, and axial misalignments should be minimized and kept within the manufacturer's recommended tolerances. Consider using alignment tools and techniques to achieve accurate shaft alignment.
Over-Tightening: Applying excessive torque when tightening the coupling elements can lead to deformation of the elastomer spider or damage to the hubs. Over-tightening can also increase friction and cause premature wear. Follow the manufacturer's specified torque values during installation to ensure proper clamping without causing damage.
Lack of Lubrication: Some jaw couplings require lubrication to reduce friction and wear. Neglecting to lubricate the coupling elements can lead to increased friction, higher operating temperatures, and reduced coupling life. Follow the manufacturer's guidelines regarding lubrication intervals and types of lubricants to use.
Failure to Inspect Components: Before installation, carefully inspect all coupling components for any signs of damage, wear, or defects. Using a damaged or worn-out elastomer spider or other components can compromise the coupling's performance and reliability. Replace any worn or damaged parts before installing the coupling.
Improper Shaft End Preparation: Ensure that the shaft ends are clean, smooth, and free from burrs or imperfections before installing the coupling. Rough or uneven shaft surfaces can lead to misalignment and reduce coupling performance. Properly clean and prepare the shaft ends to ensure a secure and accurate fit.
Not Following Manufacturer's Guidelines: Each jaw coupling has specific installation instructions provided by the manufacturer. Failure to follow these guidelines can result in coupling failure or reduced performance. Always refer to the manufacturer's installation manual and recommendations for proper installation procedures.
By avoiding these common installation mistakes, users can maximize the performance and longevity of jaw couplings in their applications. Proper installation ensures that the coupling operates efficiently, transmits power effectively, and reduces the risk of unexpected failures or downtime.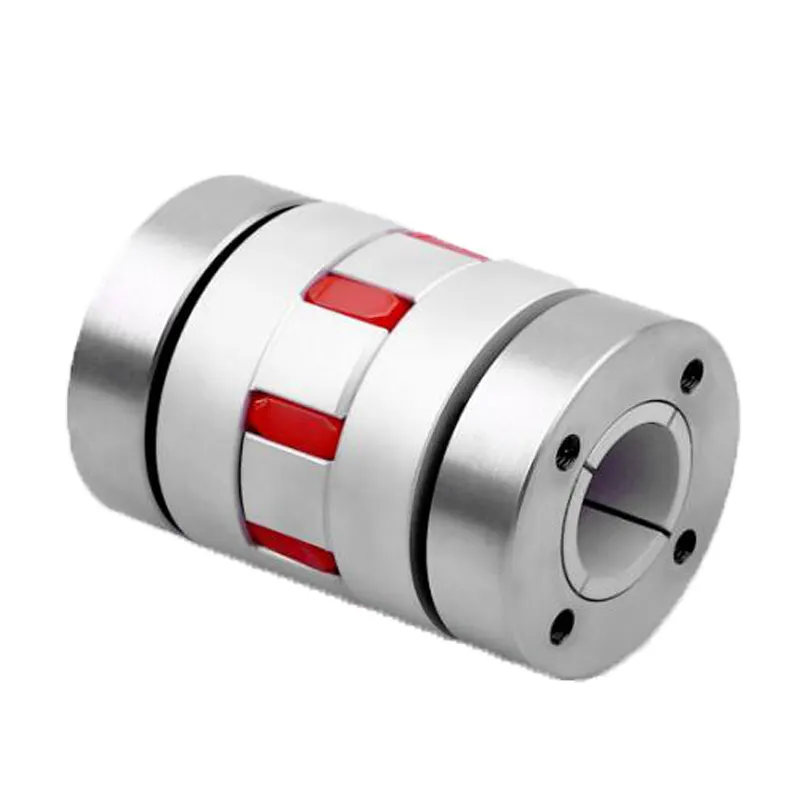 Handling Misalignment with Jaw Couplings
Jaw couplings are designed to handle certain degrees of misalignment between shafts. They are flexible couplings that can accommodate both angular and radial misalignment to some extent. The elastomeric element in the jaw coupling provides the necessary flexibility to compensate for misalignment while transmitting torque between the shafts.
Angular Misalignment: Jaw couplings can handle small amounts of angular misalignment, typically up to a few degrees. However, excessive angular misalignment should be avoided as it can lead to increased wear on the coupling and connected equipment.
Radial Misalignment: Similar to angular misalignment, jaw couplings can also tolerate small amounts of radial misalignment. The elastomeric material allows the coupling to flex and adjust to minor shaft misalignments.
It's important to note that while jaw couplings are suitable for handling some degree of misalignment, the actual allowable misalignment depends on the specific design and material of the coupling. Therefore, it is essential to refer to the manufacturer's specifications and guidelines for the particular jaw coupling being used in an application.
For applications with significant misalignment or where precise alignment is critical, other types of flexible couplings, such as beam couplings or disc couplings, may be more appropriate. Proper alignment and regular maintenance are key factors in ensuring the optimal performance and longevity of the jaw coupling and the connected machinery.



editor by CX 2023-09-11